Event Management Platform
Manage your events with just a few clicks.
EVENT MANAGEMENT PLATFORM
Manage Events & Requests
You now have a full picture of your events including auto-reminders to follow up on pending requests, signals of how hot your prospects are to book, delayed client payment notifications, trackers on client guest list progress, easily accessible past data and search options.
EVENT MANAGEMENT PLATFORM
Availability Calendar
Check your availability, confirmed events, pending requests, option dates, & alternative event dates at a glance.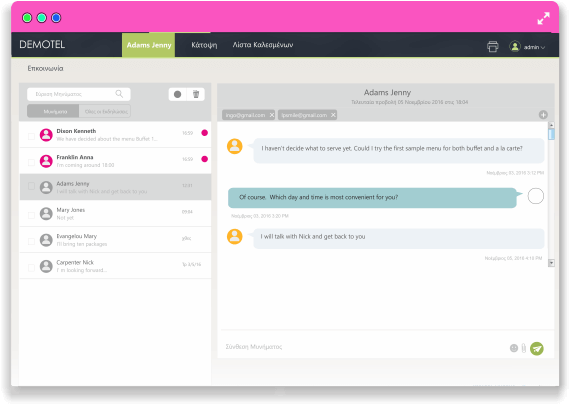 EVENT MANAGEMENT PLATFORM
Improve your communication
Tired of searching for last year's email communication with a client? All emails now automatically go and sit in their separate event accounts within the platform. No more lost emails, spam filter worries, or email chaos.
EVENT MANAGEMENT PLATFORM
Upload Menus, Contract, Vendors
Upload your menus, contract and suggestive vendor list so that both you and your clients share all relevant event info.
EVENT MANAGEMENT PLATFORM
Data Security
Rest Easy
Your data is safe & secure in a multi-protected tier-3 data center certified by ISO 27001: 2013. Data are backed-up automatically every day.
Save Data Locally
Export all your data in Excel and save them locally with two clicks.
EVENT MANAGEMENT PLATFORM
The Event Management Platform is FREE
with all EventReception packages
Check more of our awesome
event software solutions